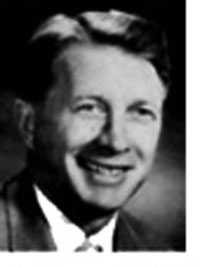 Bob Davies was one of Converse's most committed and dedicated reps. He always found a way to get the job done no matter the obstacles. Converse was a major sponsor when Bill Bolton worked alongside Bob Davies during the ABC Wide World of Sports Super Star Contest in the Grand Bahamas where pro athletes in different sports competed against each other in obstacle courses designed to high-light their speed, quickness, strength and overall athletic ability.
The super stars also participated in a variety of sports such as weightlifting, swimming and tennis. Some of the legends that attended were Bo Jackson, Lynn Swann, Bob Cousey, John Havlicek and Jim Taylor. While riding in a golf cart with Bob Davies to a tennis match where John Havlicek was to play, Bolton remembers Havlicek was wearing Addidas shoes.
Bob asked John to come over to the golf cart and he did, quite respectfully. Bob wanted to know why he didn't have on Converse, John replied, "The shoes that were given me were too small and hurt my feet." Cameras were focused on the court to record the tennis match, so Bob asked John to remove his shoes. Bob opened a bag and took out some velcro "chevrons & stars" stuck them on John's shoes, handed them back and said, "OK, John, your ready to play!"
Bolton was seated on a blanket at one of the events with LSU and NFL star, Jim Taylor and wife along with Bob Cousey. Bolton asked Cousey, "How good was Bob Davies when he played? He replied, "Bob Davies was one of the best athletes to ever play the game and paved the way for the others that followed." This was a tribute to Davies from one of the All-Time NBA Boston Celtic legends. "Davies was one of most genteel individuals I've ever had the pleasure of knowing," said Bolton.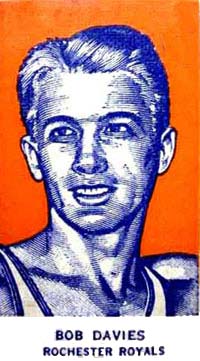 Robert Edris Davies (born January 15, 1920 in Harrisburg, Pennsylvania - died April 22, 1990 in Hilton Head, South Carolina) was a professional basketball player in the 1950s. Alongside Bobby Wanzer he formed one of the best backcourt duos in the NBAs early years. Davies and Wanzer led the Rochester Royals to the 1951 NBA championship. Davies was also a former basketball coach at the Seton Hall University and was inducted to the Basketball Hall of Fame on April 11, 1970.

Although Bob Cousy is often considered the originator of the behind-the-back dribble, Davies actually deserves the credit. His Seton Hall coach, "Honey" Russell, once said, "He had such uncanny control of the ball behind his back that it never concerned me. He made it look as easy as the conventional dribble."

Davies entered Seton Hall in 1938 on a baseball scholarship, but Russell persuaded him to concentrate on basketball after seeing him practice once. Never a high scorer—his best college average was 11.8 points a game—Davies was a consummate passer and play-maker.."

Known as the "Harrisburg Houdini," Davies led Seton Hall to 43 consecutive victories from 1939 into 1941. His spectacular skills helped attract the largest crowd in basketball history at the time, 18,403 people, to Madison Square Garden in March of 1941, when Seton Hall beat Rhode Island in a quarter-final game of the National Invitation Tournament.
An All-American guard in 1941 and 1942, Davies joined the U. S. Navy during World War II and led the Great Lakes Naval Training Station team to a 34-3 record before going overseas. After the war, he joined the Rochester Royals and played with them through the 1954-55 season.

Davies helped lead the Royals to an NBL title in 1946, and was named MVP of the NBL for the 1946-47 season. Davies was named to the NBA All-NBA First-Team four straight years, from 1949 through 1952, and he led the NBA in assists with 321 in 1948-49. In his 10 professional seasons, Davis scored 7,770 points, averaging 13.7 a game, and had 2,250 assists. He added 904 points and 182 assists in 67 playoff games. He was one of the ten players named to the NBA 25th Anniversary Team in 1971.

Davies coached Seton Hall in 1946-47, while playing with the Royals, and compiled a 24-3 record. After retiring as a player, he coached Gettysburg College for two seasons, winning 28 games while losing 19. The No. 11 jersey worn by Davies during his playing days with the Rochester Royals was retired by the team. The Sacramento Kings, the present holders of the franchise, continue the honor.