Tony Dorsett, a 5-11, 192-pound running back from the University of Pittsburgh, already was a celebrity by the time he joined the Dallas Cowboys as their first-round draft pick in 1977. A four-time All-America at Pittsburgh, Dorsett also won the 1976 Heisman Trophy.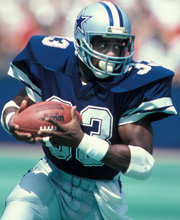 Just as he had done at Pitt, he took the National Football League by storm in his rookie 1977 season. Dorsett rushed for 1,007 yards and 12 touchdowns and was a virtually unanimous choice for NFL Offensive Rookie of the Year honors. Dorsett, who was born April 7, 1954, in Rochester, Pennsylvania, rushed for more than 1,000 yards eight of his first nine seasons – the only miss was the strike-shortened 1982 campaign which, ironically, saw him win his only NFC rushing championship.
His top production came in 1981, when he rushed for 1,646 yards and added 325 yards on 32 receptions. Dorsett spent the first 11 seasons of his 12-year, 173-game NFL career with the Cowboys before being traded to the Denver Broncos for a fifth-round draft pick in 1988. He led the Broncos in rushing with 703 yards in 1988 but injuries prevented him from playing after that first campaign in Denver.
For his career, Dorsett rushed for 12,739 yards. He totaled 16,326 yards from scrimmage. He scored 546 points on 91 touchdowns, 77 by rushing, 13 by receiving and one on a fumble return. Dorsett, a three-time All-NFC pick, who was All-Pro in 1981 and a veteran of four Pro Bowls, played in five NFC championship games and Super Bowls XII and XIII. He had impressive post-season statistical totals -- 1,383 rushing yards and 1,786 yards from scrimmage in 17 games. In 1982 during a Monday night game against the Minnesota Vikings, Dorsett set a record that may some day be tied but will never be broken – a 99-yard touchdown run.